Atlanta's Best Personal Injury Lawyers
Let Us Help Ease Your Pain and
Recover The Injury Compensation You Deserve.
Don't Suffer In Silence. We're Here For You.
By your side
Tell Us What Happened So That We Can Help You Obtain Justice.
Building Your Case
We've Got What It Takes To Win The Best Result For You.
Fighting for you
How do the graphics and interface of Aviator Casino Game Online enhance the overall gaming experience for players?
The graphics and interface of Aviator casino game online are crafted to augment the intense, suspenseful nature of the gameplay. The visual representation of the plane ascending, coupled with the constantly escalating multiplier, creates a visually and emotionally heightened environment that keeps players on the edge of their seats.
Atlanta Personal Injury Attorneys
If you want a law firm that'll "churn and burn" your case, you should hire a big law firm that advertises on billboards and buses.
But, if you want the best customer service and the greatest result, you should hire Graham Scofield Injury Lawyers. We're not big. We're better.
You probably have many questions:
Who will pay for my medical expenses?
How long will it take to get compensation for my injuries?
How much is my case worth?
Call us today if you're struggling with those questions. We've got the answers.
You may feel completely overwhelmed after a serious accident. Your medical bills keep piling up. Your job may be in jeopardy because you've missed work to attend your doctors' appointments. Perhaps, you'll have to undergo surgery to treat your injuries. You may even be permanently impaired. The last thing that you want to do is listen to an insurance adjuster diminish the value of your suffering. Let our Atlanta injury lawyers handle those burdens for you. We'll work tirelessly to recover the compensation that you deserve. Just ask our colleagues and former clients.
At Graham Scofield Injury Lawyers, our Atlanta personal injury attorneys have successfully represented injured victims for over 13 years. Our practice blends extensive trial experience and insurance industry knowledge with an unmatched level of client care. We understand the trauma and financial distress that you're experiencing. We'll fiercely advocate for you and secure what you deserve to help you rebuild your life. Our great results validate that promise.
Graham Scofield Injury Lawyers are zealous, caring advocates for their clients. We urge you to call us now at (404) 939-9470 to schedule a free consultation with our personal injury attorneys. Our law office is conveniently located at 691 John Wesley Dobbs Avenue Suite C-04 Atlanta, Georgia 30312 where we represent injured people on a contingency fee basis throughout the Atlanta metro area, including Fulton County, DeKalb County, Clayton County, Gwinnett County, Cobb County, Rockdale County, Newton County, and Henry County. That means there will never be an upfront cost to you. We only get paid when we win your case.
Meet our Atlanta Personal Injury Attorneys
OUR FIRM AWARDS INCLUDE: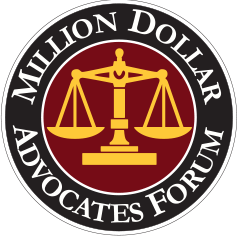 Million Dollar Advocates Forum
Membership in this group is limited to trial lawyers that have obtained a jury verdict or settlement of

one million dollars or more.
Fewer than

1%

of lawyers in America have earned that distinction.
What You Should Know About Us
We'll Tell Your Story
Many personal injury victims worry that they won't be able to explain all of the harms they've suffered from an accident. That's completely understandable. When you experience the lingering effects of trauma on a daily basis, it's difficult to reduce it to words. That's why you hire us. At Graham Scofield Injury Lawyers, we'll tell your story and describe all of the losses you've suffered. We'll also hire experts that will evaluate your damages and explain to the insurance adjuster, or jury, how they can calculate a fair resolution of your claim.
We'll Get You The Best Medical Care
Most of our clients hire us shortly after they're injured. They're in significant pain and they don't know where they should seek treatment because they've never been injured before. We'll ensure that your injuries are treated by the top medical providers in Atlanta. That way, you'll be in the best position to recover from your injuries. If your injuries are permanent, your providers will be able to explain all of your limitations to the insurance adjuster or jury so that your case is resolved for the full value of harms you've suffered.
We'll Get You The Best Result
Our Atlanta personal injury attorneys have won millions of dollars for our clients. We've consistently achieved great results because we're skilled trial lawyers. Insurance companies understand that if they make a low-ball settlement offer to us, we'll gladly take them to trial and hold them accountable for violating community safety rules.
How Were You Injured?
We specialize in the following types of personal injury cases:
We've also had great success resolving the following types of cases:
What body part did you injure?
Explore our interactive graphic to learn more about your injuries.
Give Your Case the Attention it Deserves
Many personal injury lawyers never return their clients' calls or explain what's going on with their cases. That's not how we operate. At Graham Scofield Injury Lawyers, we treat our clients like they're our family. That means that we give every case the same degree of care that it would receive if it involved a member of our household.
We'll give you our lawyers' personal cell phone numbers. That way, you can reach us whenever you have a question or concern. We'll promptly return your calls and keep you informed every step of the way.
By contrast, the large personal injury law firms that advertise on buses and billboards are set up so that you're never able to communicate with a lawyer. They care far more about making a profit on your case than they do about you. Not us. We always put our clients first.
We've helped our clients recover
millions of dollars.
Check out more of our successful case results.
When You Should Call A Lawyer
Most of our clients have never filed an insurance claim or lawsuit.
Our clients are average folks that aren't litigious. They often have reservations about hiring a personal injury lawyer – until they speak with us.
If you're unsure whether you should hire a lawyer, please call us for a free, no-risk consultation.
We'll answer all of your questions. If you decide to hire us, we'll get to work on your case immediately. From there, we'll gather evidence that strengthens your claim and develop a strategy that gives you the best chance for success.
"Graham is one of the best lawyers in the business. I've worked with him as co-counsel on multiple, complicated catastrophic injury cases and we've had amazing results. He is my go-to firm when I know I need the big guns."
What Compensation Can I Expect?
When you drive around Atlanta, you often see billboard and bus advertisements from one of Atlanta's largest personal injury law firms. Those firms want you to believe that a bigger law firm will get you a bigger settlement than a smaller law firm because a bigger law firm has more money to spend than a smaller law firm.Their message might sound appealing to you. Unfortunately, it's misleading.
Bigger personal injury law firms may have more money to spend than smaller law firms, but they don't spend that money to enhance the value of their clients' cases. Instead, they spend almost all of their money on advertising and promotion. Their goal is to collect as many personal injury cases as possible and then settle those cases as soon as possible – even if that means settling your case for far less than its true value.
The big firms typically don't make much money on any given case, but they process hundreds of settlements in a given month, so they're able to make a profit. That's good news for them. But, it's bad news for their clients that walk away with tiny settlements.
At Graham Scofield Injury Lawyers, we are proudly one of the smallest personal injury law firms in Atlanta. We invest our time and money in our clients' cases – not billboards and bus ads – because our clients are our number one priority. Our goal is to maximize the value out of every single case – not settle it for pennies. Our case results speak for themselves.
We'll help you recover compensation for:
– Lost wages and diminished earning capacity
– Past, present, and future medical costs
– Pain and suffering
– Permanent disability or disfigurement
– Property damage
If you've lost a loved one to a fatal accident, you may also recover the following damages:
Loss of companionship
Mental anguish
Loss of guidance and nurturing
Funeral and burial expenses
Loss of benefits
Your Personal Injury Recovery Process
Many clients ask us, "when will my case be resolved?"
Each case has its own resolution timeline. However, many cases are resolved in 6-12 months if they don't have to be litigated and 12-24 months if they have to be litigated.
Here are the six main phases of a personal injury case:
Medical treatment. 3-6 months in a non-surgical case. 6-12 months in a surgical case. During that time your lawyer sets up your insurance claim and orders all of your medical records and bills, as well as all investigative reports from the accident.
Pre-suit settlement negotiations. 30-60 days. Once you complete medical treatment, your lawyer will
attempt to settle your case. Approximately 50% of cases are resolved at that point.
Lien resolution. 30 days. If your case is settled pre-suit, your lawyer will negotiate all of your medical bills and liens in order to maximize your settlement. Your settlement will be disbursed to you approximately 10 days after the bills are resolved.
Litigation. 12-24 months. If your case isn't settled pre-suit, it will proceed to litigation. During litigation, your lawyers will exchange documents with the insurance defense lawyers. Your lawyers will also conduct depositions of the lawsuit parties, the accident witnesses, and hired experts.
Mediation. At the end of litigation, your case will be mediated. Mediation is a procedure in which the parties attempt to resolve the case with the assistance of a neutral third party (mediator). That is the final opportunity to settle your case before trial.
Trial. If your case doesn't settle at mediation, it will proceed to trial. At trial, your lawyers will demonstrate why the defendant is responsible for the harms you've suffered. Then, they will explain to the jury how they can calculate the monetary value of the harms. If the jury decides to award you compensation, you will receive it approximately 90-120 days after the verdict.
You're in good hands with us. We'll do our best to make this a worry-free experience for you. We'll also
get the best possible result for your case.
Our Atlanta, GA Personal Injury Lawyers Come to You
We know that you and your family are going through a lot right now. You might be spending long hours at the hospital. Perhaps, you lost your vehicle in the collision that injured you. Those challenges may make it difficult for you to travel to our law office.
That's OK. We'll come to meet you – wherever you are. The areas we serve include your office, home, or hospital room. If you request a consultation, a member of our team will meet you wherever it's most convenient for you. We also offer virtual consultations.
Graham Scofield Injury Lawyers is based in Atlanta, Georgia. We offer our services in the following Atlanta metro counties:
Fulton County
DeKalb County
Clayton County
Gwinnett County
Cobb County
Rockdale County
Newton County
Henry County
Free Consultation & No Fees Until We Win Your Case
Time is of the essence after a serious accident. For instance, the longer you wait to call a lawyer, the likelier it is that evidence may be lost or destroyed. Memories also fade over time and you need to capture eyewitness testimony before that occurs.
Call us as soon as possible. We offer a free, no-risk consultation where you will speak directly with an experienced lawyer.
We'll review your case and determine how we can help you. If you decide to hire us, we'll work on a contingency fee basis with no upfront cost to you. We only get paid if we win your case.
Call (404) 939-9470 or submit the details of your case via our online form. We'll be in touch as soon as possible. If you've got questions, we've got the answers.
"When I felt all hope was lost, I contacted Graham Scofield to see if he could represent me. He immediately called me back and thoroughly reviewed with me the case. He was the most patient, kind, sympathetic and the upmost professional attorney throughout the entire process. He was also extremely knowledgeable about the law and was creative when the case worked through the twists and turns. He was also a heck of a fighter for me and got me more settlement than I was expecting. I only wish I called him sooner! Thank you so much Graham, you are an amazing lawyer!!"
Read more testimonials