Atlanta's Best Personal Injury Lawyers
Let Us Help Ease Your Pain and
Recover Maximum Compensation For Your Injuries.
Don't Go Through This Alone. We Have You Covered.
By your side
Tell Us What You Need So You Can Recover.
Building Your Case
We Know What It Takes To Secure Your Future.
Fighting for you
Atlanta Personal Injury Attorneys
No one asks to be seriously injured or have their life turned upside down by an accident caused by someone else's negligence.
You probably have a lot of questions:
Who will pay for my medical expenses?
How long will it take to get compensation for my injuries?
How much is my case worth?
If you're struggling with these questions, we have answers. Call us today.
These are difficult situations for anyone, but with quality legal representation, you can gain useful advice and a clear path forward. At Allen & Scofield Injury Lawyers, LLC, our Atlanta personal injury attorneys have been helping seriously injured people in similar circumstances for over 33 years. We take great pride in blending extensive trial experience and insurance industry knowledge with an unprecedented level of client care. We're acutely aware of the trauma and financial stress that you and your family are experiencing. We will fiercely advocate for you and secure what you deserve to help rebuild your life.
After a serious accident, the prospect of dealing with large corporations, insurance representatives, or even other lawyers that appear disinterested in your case can seem like too much to bear. Being forced to fight for what's right after you or a loved one was harmed can be incredibly frustrating. But, you don't need to go through it alone. You have the right to pursue fair compensation for the losses you and your family suffered. Our Atlanta injury lawyers will work tirelessly to hold the responsible parties accountable.
Allen & Scofield Injury Lawyers, LLC brings the highest level of client service and dedication to every case and encourages you to call us at (404) 419-6674 to schedule a free initial consultation with our personal injury attorneys. Our law office is conveniently located at 3575 Piedmont Rd. NE Bldg. 15 Ste. L-130 in Atlanta, Georgia where we represent injured people on a contingency fee basis throughout the Atlanta, Georgia area, including Fulton County, DeKalb County, Clayton County, Gwinnett County, Cobb County, Rockdale County, Newton County, and Henry County. That means there will never be an upfront cost to you. We only get paid if we win your case.
OUR FIRM AWARDS INCLUDE:
Best Attorney of America Lifetime Charter Member
As one of the most respected groups of attorneys in the country, membership is extremely selective, and limited and accomplished attorneys in the United States.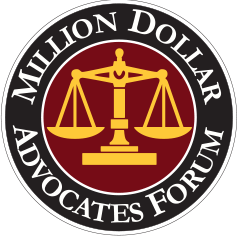 Million Dollar Advocates Forum
This recognizes trial lawyers who have obtained a jury verdict of one million dollars or more. Fewer than 1% of lawyers in America have this distinction.
The National Trial Lawyers
Issued by The National Trial Lawyers, this prestigious recognition is conferred to trial lawyers who exemplify the superior qualifications as trial attorneys.
What You Should Know About Us
We Convey Your Truth and Tell Your Story
In personal injury cases, it can be difficult to explain the severity of an injury or the full scope of its effect. This is a unique skillset, built on experience and instinct. Submitting medical reports is always essential, but if an injury is preventing you from living a full life, it isn't always as easy as telling the insurance company or jury. The impact needs to be shown. At Allen & Scofield Injury Lawyers, LLC, we are fully aware of this, and since its founding, every member has been committed to seeking the truth for every client and making sure their stories are effectively shared.
Our Focus is On Your Total Recovery
When we meet with many of our clients, they are in poor physical health, experiencing significant pain, and under tremendous strain. We know you need financial compensation to cover the medical bills and deal with being out of work. However, you also need time and resources that you may not immediately consider. While we always strive to obtain the maximum amount of financial compensation for your losses and future needs, we also use our network of relationships and contacts to make sure that you receive the medical care and attention necessary to live a quality life with confidence.
We are Veteran Trial Lawyers with a Distinguished History
Our Atlanta personal injury attorneys have successfully represented countless individuals for over 30 years and across 40 states. Our courtroom skills make us formidable opponents for any opposing counsel representing the at-fault party or large insurer. Through our experience, we have developed a keen insight into how companies attempt to skirt their responsibilities and minimize valid claims. We use this to anticipate their approach and develop cases that put our clients in the best possible positions.
When our Atlanta personal injury lawyers are handling your case, you can rely on:
– Individual attention from highly-skilled trial attorneys
– Honest and realistic legal advice at every stage of the process
– Direct interaction with lawyers committed to keeping you informed
– The resources and skills necessary to get the best possible results
How Were You Injured?
With decades of experience, we regularly handle personal injury claims that include, but are not limited to:
More types of cases we handle:
Where were you injured?
Explore our interactive graphic to learn more about your injuries.
Give Your Case the Attention it Deserves
Many people contact Allen & Scofield Injury Lawyers, LLC after being informed by other lawyers that they don't have a "good case." We think you deserve better than that level of inattention, and that is not how we operate.
Instead, our Atlanta injury attorneys are guided by the belief that no one should suffer because of another's negligent conduct. That's why we stay engaged with our clients from day one, making sure you are informed and comfortable with how your case is progressing.
From the moment you contact us, rest assured that a compassionate, attentive, and dedicated legal professional is listening to you and pursuing your goals.
Regardless of the injury or circumstances, as Atlanta personal injury lawyers, our mission is to ease the burden unfairly placed upon accident victims and obtain reasonable compensation for their pain and suffering. We focus on every detail and fight for the maximum possible recovery in every case. Most importantly, we treat each client with dignity and respect, making sure they are treated fairly in a complex legal system.
We've helped our clients recover over
$70 million

, including a $15 million verdict in 2016 that was upheld on appeal.

View some of our successful case results that we have achieved for our clients.
When You Should Reach Out to an Attorney
We appreciate that many of our clients have little to no experience with insurance claims or lawsuits.
Most of the people that contact us are average folks from the Atlanta area who would normally never consider suing someone. They simply want to return to normal and rebuild their lives. Hiring an attorney can seem like an added stress, but you should not sacrifice your physical, emotional, or financial well-being because of someone else's negligence. Without effective legal guidance, the likelihood of securing a sufficient financial recovery greatly diminishes.
If you're weighing the pros and cons of a personal injury claim, feel free to contact our offices for a free, no-risk consultation. We will evaluate your situation and determine what steps you may want to take. From there, we can gather evidence that supports your claim and develop a strategy that gives you the best chance at success.
"Charles and Graham are the best in the business. I've worked with them as co-counsel on multiple, complicated catastrophic injury cases and we've had amazing results. They are my go-to firm when I know I need the big guns"
What Compensation Can I Expect?
The physical discomfort and emotional strain related to a serious accident are always substantial.
When you add on staggering medical expense and inability to work, it can feel like the weight of the world is on your shoulders. However, if someone's reckless or negligent behavior caused your injury, you should not be held responsible for the cost.
After consulting a knowledgeable Atlanta injury lawyer, you may be able to hold the appropriate party accountable through a personal injury claim. The precise amount of your recovery will depend on the details of your case, such as the extent of your injuries and the effect the accident had on your life.
By working with Allen & Scofield Injury Lawyers, LLC, we will pursue compensation for:
– Lost wages and diminished earning capacity
– Past, present, and future medical costs
– Pain and suffering
– Permanent disability or disfigurement
– Property damage
Additionally, when a loved one is lost in a fatal accident, you may be entitled to recover additional damages for:
Loss of companionship
Mental anguish
Loss of guidance and nurturing
Funeral and burial expenses
Loss of benefits
Your Personal Injury Recovery Process
There are several factors that influence the outcome of personal injury cases; however, there are a few aspects that remain relatively constant.
It is important to remember that no matter what type of accident or injury you are dealing with, you have rights under the law and are always best served by discussing the facts with a seasoned personal injury lawyer in your area.
At Allen & Scofield Injury Lawyers, LLC, our Atlanta personal injury attorneys can help guide you through every facet of:
The immediate aftermath of the accident.
Your medical treatment.
Making a personal injury claim.
Building the strongest possible case.
Any settlement negotiations or trial.
The verdict, recovery, and finding closure.
Whether it involves helping you receive the best possible medical care, handling the grueling process of collecting evidence, negotiating for what you need, or fighting to make sure you receive it, we are fully prepared to deliver the legal representation that you and your family deserve.
Our Atlanta, GA Personal Injury Lawyers Come to You
We believe that everyone is entitled to best possible legal representation when they find themselves seriously injured or suffering from the tragic loss of a loved one.
We know you and your family are going through a lot right now. That's why we make ourselves available – where you are. The areas we serve can include your office, home, or hospital. If you request a consultation, a member of Allen & Scofield Injury Lawyers, LLC will meet you wherever is most convenient and comfortable for you.
Allen & Scofield Injury Lawyers, LLC is based in Atlanta, Georgia and offers our services in the additional areas:
Fulton County
DeKalb County
Clayton County
Gwinnett County
Cobb County
Rockdale County
Newton County
Henry County
Free Consultation & No Fees Until Your Recover
After any serious accident, time will be of the essence. You need to know your rights and legal options as soon as possible. Let us review your situation and determine how we can help obtain a recovery that restores your peace of mind and ensures your family has what it needs. We offer a free, no-risk consultation where you will speak directly with an experienced lawyer.
If we decide to move forward together and pursue your claim, we will do so on a contingency basis with no upfront cost to you. We only get paid if we win your case.
Call (404) 419-6674 or submit the details of your case via our online form. We will be in touch as soon as possible to see how we can help.
In the News
The attorneys at Allen & Scofield Injury Lawyers have received national press coverage regarding two wrongful death cases they're currently litigating against Jacuzzi, Inc.
"Charles is an excellent trial attorney who possesses a unique talent to hone in on the significant issues and turn the Defendant's strengths against them. Charles is as honest as the day is long and works tirelessly to ensure that his clients receive all that is possible. While no lawyer is perfect, Charles strives to be as good a lawyer as there is on this planet, and he succeeds!"
Read more testimonials